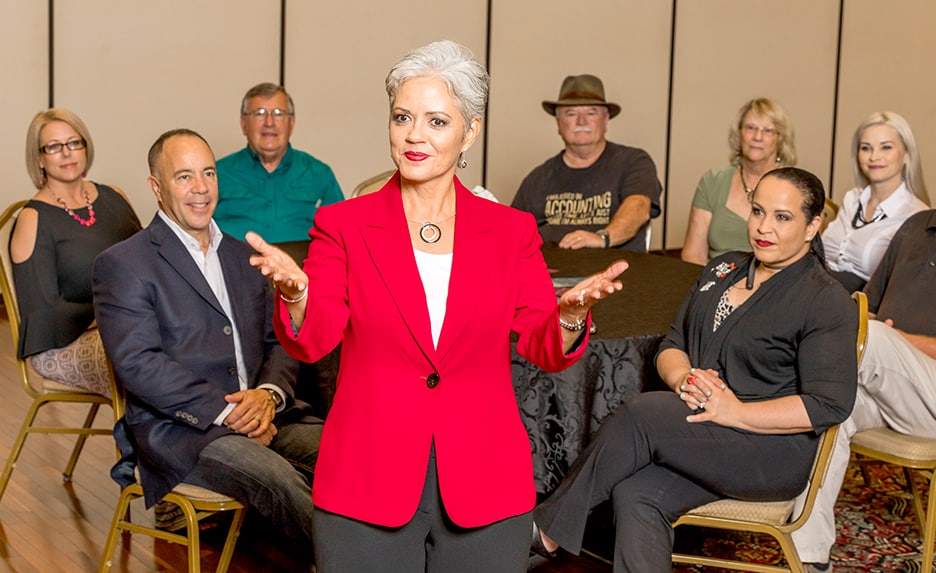 Anita Torres brings her passion and high energy to everything she does. She is a highly motivated and passionate Certified Executive Leadership Coach and Consultant. Her purpose and mission is to inspire leaders to communicate simply, engage teams powerfully, thrive in business, and BE leaders worth following with coaching and consulting. Anita's engagements are highly-interactive, filled with passion, energy, and lots of key takeaways to apply immediately at work and in life.  Don't be surprised to see the audience up and out of their chairs networking, laughing, dancing, and engaging in experiential activities that touch the mind, heart, and soul.  Anita customizes presentations to fit all learning needs, audiences, and adds some fun to the experience. Anita gained valuable management and corporate training experience in the financial, insurance, and business service industries.  Her specific call center background and corporate experience comes from past employers that include Liberty Mutual Insurance Group, First Data Merchant Services, Precision Response Corporation, Citibank, and MasterCard International. Anita has presented for the Central Florida Chapter of Association for Talent Development, National Customer Service Association Summit and Conference, Lake-Sumter State College, Keiser University, Columbia University, the Reinvention Convention and Retreat, and YouFirst Women's Conference and Retreat.
Need a Speaker for Your Next Event?
Invite Anita "The Passionista" Torres with Passion Powered Leadership to your event and prepare for a high-energy, memorable and effective event! Click the button below or call 352-455-4869.
See "The Passionista" At Work!
Take a look at the "Director's Cut" from one of Anita's training sessions. Each clip is explained by Anita, giving you some context behind her techniques.
Topics
Anita offers the following six talks on an ongoing basis. She is also available to create a custom presentation for your organization. Please feel out the contact form at the bottom of the page to discuss your needs.
Motivate Your Service Team with Get R.E.A.L. Practices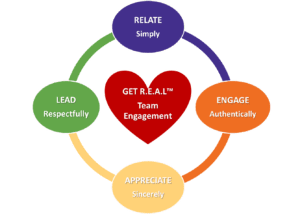 If you're struggling to keep your team inspired, motivated, and engaged, look no further than within yourself.  Yes, you–the leader, manager, or team leader!  Studies show leaders hold the "
golden
key to engagement above all the top drivers and most specifically through
their interactions with others
."  You've GOT the power to raise the levels of engagement – one person at a time!  Get away from your devices and let's get REAL with people. In this highly interactive and experiential session, we'll explore the meaning of engagement and practice passion powered leadership strategies you can use right away to increase engagement levels in your organization. The four Get R.E.A.L. practices are designed to deepen relationships and increase productivity using the latest neuroscience research on the impact of authentic leadership and communication. Get ready to have fun and get R.E.A.L!  Laughing at yourself is encouraged!
Change Your Conversations; Transform Your Business!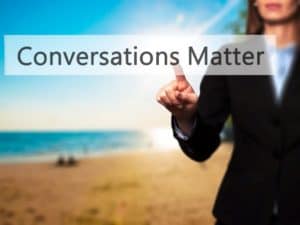 As leaders, we are in conversations every day. Conversations either open us up or close us down. Research shows that 9 out of 10 conversations miss the mark. Conservational Intelligence® is the ability to connect, navigate, and grow with others to form lasting and trusting relationships.  It provides us with a deep understanding of how every conversation and every word we use matters greatly and has a profound impact. Inefficient conversations are extremely costly, highly frustrating and a waste of time. Miscommunication is a common business fatal flaw and is often the root cause of many organizational and team performance issues. "To get the next level of greatness depends on the quality of the culture, which depends on the quality of relationships, which depends on the quality of conversations. Everything happens through conversation." Judith E. Glaser, author of Conversational Intelligence: How Great Leaders Build Trust and Get Extraordinary Results.
Are You a Leader Worth Following? How to Develop Stronger Relationships with Yourself and Others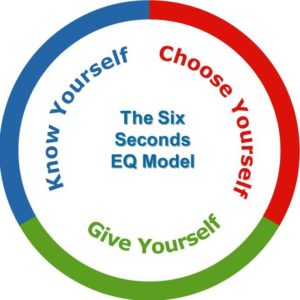 Becoming a leader worth following is an "inside" job beginning with the relationship you have with yourself. Leading from the heart, versus the head, requires willingness to look within, to know yourself, to be aware of your emotions, be able to identify the emotions you have in the moment, manage your emotional reactions, and understand how they impact your behavior, your decision making, and your relationship with others. This level of self-awareness provides the opening for leaders to recognize others' emotions, understand them, and manage relationships effectively.  Unlike the Intelligence Quotient, research studies show that emotional intelligence can be improved.  It is a set of skills that can be learned and practiced.  In this series, we will explore the Six Seconds™ Model of three pursuits:
Know Yourself, Choose Yourself, Give Yourself,
along with a set of learnable skills that support your journey to BE the leader worth following.
What's Your Unique Contribution?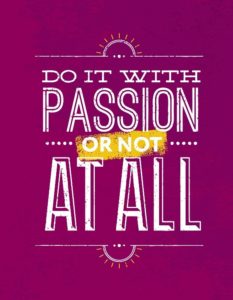 Every individual has unique talents, interests and a life purpose AND every business provides a unique value to its employees, customers and to the world. That 
unique value
is the company's purpose for being. As a business leader, your challenge is to identify and attract people whose passions are aligned with your own purpose and passions. It's imperative in today's business climate to differentiate the way 
YOU 
provide that unique value with an elegant simplicity that inspires passion. Make your company's unique value and core passions a living, breathing, vibrant part of your everyday experience. Discover or re-calibrate your company's top core passions or values.  When the company mission becomes personal, you establish trust with your team. The secret is to connect the corporate mission to individual employee work passions, to the things that the employees care most. It translates into an engaged, passionate, and loyal workforce.
Got KNOCKOUT Service?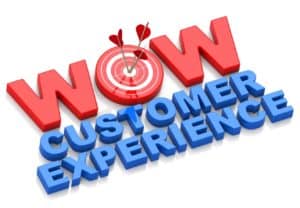 In today's competitive market, it's not what you're selling, but how you're servicing that matters most. There's a fine line between selling and serving.
Got Knockout Service?
focuses on the interpersonal skills and behaviors that are critical for personal and organizational success. How you handle your customers can directly affect your own goals, the team's, and the company's performance.  This highly-interactive presentation brings to light the behaviors that we already know but often need review and practice in applying them.  Re-ignite a passion for WOW-ing customers (both internal and external) and get ready to KNOCK 'EM OUT" using the S.E.R.V.I.C.E Codes of Conduct!
Normal is GONE and It Won't Be Back: The Emotional Journey of Change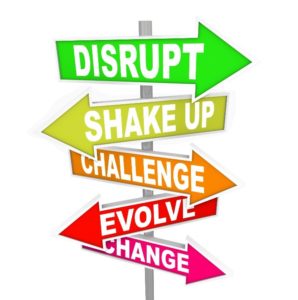 Wish things could be normal again?  Doing more with so much less is new normal.  The people you lead are overwhelmed, stressed, ready to pull your hair out at times.  Many are even sure what their feeling or where it's coming from but know something is off.    One minute they're in an upbeat mood ready to take on the next work challenge you assign to them and then the next minute they are resisting, angry, or just plain frustrated with all the fast-paced changes happening in the organization. Of the many possible forces in life,
CHANGE is our #1 constant
.  We all can count on change happening every day and in some cases every minute.  Change is inevitable, growth is optional!  Passionate leaders make time to learn how to manage change effectively in order to lead teams powerfully through the four phases of the emotional journey.  In this presentation, we explore how to recognize the emotional triggers and the specific leader actions you can take to reach completion and success.